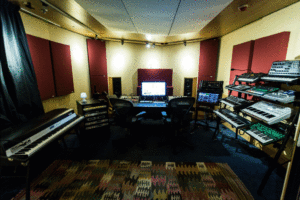 Nachtlab has two studios available: the Production Studio, which includes a vocal/instrumental recording booth, and the DJ Mix Live-stream Studio.
Both studios offer a unique experience being equipped with analog and top-of-the-range gear to ensure you have full acces to premium quality, thus lifting your productions and creativity to a new level.
You can produce, remix, master and record your content at the Nachtlab studios and in between sessions you may find yourself amongst other Dutch and international artists and creative entrepreneurs of Nachtlab. Specialist producers and sounds engineers are available for guidance and to provide creative and technical expertise.
Click here for the available equipment.
Of course, there can be made use of the facilities such WIFI and a canteen with lunch service on weekdays. To find out more contact: studio@nachtlab.com or call +31(0)20 2103057